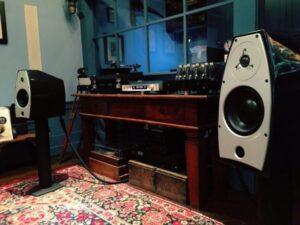 Years ago, somewhere in rural Missouri, I became fascinated with speakers. I dabbled in building them, collecting them, connecting them, and listening to them. It never occurred to me that, years later, I could make a living selling stereo.
After a long and winding path and many iterations of a construction career, one day it dawned on me – I hate construction. But what was I going to do about it? Well, at the time, I had a client in the movie business and she had carved out 500 square feet in her renovation plans to install a Home Theater. When she asked me about the necessity to run wires for her audio and video system, I told her that I could do the entire Home Theater for her. Audio, projector, projection screen, remote control, sound proofing, lighting…everything. I quoted the job and she agreed. So suddenly, and to my great enthusiasm, I was in the audio and video business.
It was a large renovation and those can take months. So between the moments when I needed to install the new kitchen and have her floors refinished, I started getting certified in everything audio and video. I took every class I could find and consumed all the relative content I could. I have heard it said that you have to do something for 10,000 hours to become an expert. I'm not sure about that, but I can attest that after 10 years of living and breathing the business I do believe I qualify as an expert.
From that very foundation and driven by an enthusiasm that goes back to my original love of speakers, I decided not only am I a custom audio and video integrator, but I also want to sell speakers and stereo. From that very idea of many years ago I searched out and was able to acquire a dealership with my first speaker line, Totem Acoustics. It was from there that I have slowly, product by carefully selected product, built a small, up and coming stereo shop.
For a few years I worked out of a home office with a home theater studio/sound room which I stocked with my favorite products. But soon after the desire to have greater public access and a legitimate storefront with walk in clients won out. I opened Bright Audio (born from Bright Home Theater) in February of 2012 and we have never looked back.
Bright Audio is doing great and we have tried to redefine the concept of the stereo store. It's very deliberately a small store designed to look and feel like a home. We consistently hear from our clients that it is one of the nicest shops they have ever been in. We are service oriented and we don't pay our salesmen commission based salaries, for the sole purpose of never making a visitor feel obligated or pressured. We welcome friends and the curious to drop by and hang out with us. We love our regulars and we have many. We try to be solution based depending on a clients needs and we make our best effort to stay within a clients budget.
Ironically, I have opened a small stereo shop in New York while most of them are disappearing or have disappeared. We recognize that people want a place where they can learn about better audio, can experience it, and get options. It's a confusing time in audio as we transition from music on the go to trying to get better audio in the home. Our job is to help people find the best ways to achieve that and to experience it. Ultimately that is what it is all about which is why I love selling stereo. Very few people come into our store grumpy, the job description is inherently full of smiles.
Please visit: www.brighthometheater.com or www.brightaudio.com